December 2007 Issue

| | |
| --- | --- |
| | What's in this issue... |
| | Monsanto R100 Oscillating Die Rheometer Refurbished... More |
| | PvT Apparatus Temperature Range Increased... More |
| | Free Gammadot Software Modified on Request... More |
| | That was the Year That Was - A Review of 2007... More |
| | Gammadot Services Overview... More |
Seasons greetings! Welcome to the last quarterly newsletter of 2007. Gammadot has enjoyed a successful 12 month period which has seen substantial growth in both the variety of contract work performed and the range of rheological equipment available to support it. I'd like to take this opportunity to wish clients and colleagues, both past and present, a very, Merry Christmas and a prosperous New Year. Gammadot looks forward to continuing to provide you with rheology & materials characterisation support in a timely & professional manner.
Mark C. Edwards
Monsanto R100 Oscillating Die Rheometer Refurbished...

At the end of 2007 we announced plans to refurbish our Monsanto R100 oscillating die rheometer to include PC-based data logger software and a new, higher accuracy digital temperature control system.The refurbishment was completed during quarter III of this year and the first contract work with the revamped machine performed early November. The original temperature control system has been replaced with dual digital controllers giving temperature control to ±0.1°C. Data is collected using bespoke software which automatically calculates cure & scorch parameters enabling swift analysis & comparison of data sets. The original Monsanto chart recorder is still connected to the machine giving the facility to supply data the "traditional" way if so requested. More Info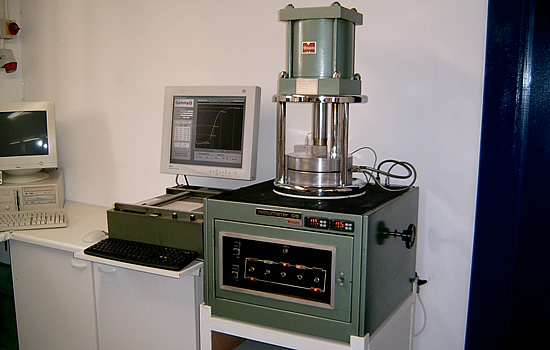 The maximum temperature at which PvT data can safely be generated with Gammadot's Rapra Technology-developed PvT apparatus has been increased by 50°C. Following trials utilising new, experimental high temperature containing fluids supplied by Morris's lubricants, the instrument now has a maximum operating temperature close to 400°C. The increased thermal range was required to provide contract testing of high temperature engineering thermoplastics with crystalline melting points in the 320°C - 370°C range. The replacement pressure, temperature transfer medium allowed characterisation of the materials well into the melt phase. More Info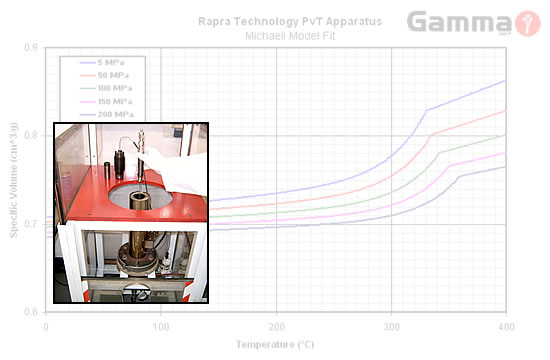 The free second order viscosity model points conversion software advertised in last quarter's newsletter has been modified slightly to cater for a wider user base. The original version was written primarily for the conversion of polymer second order fits and therefore gave calculated viscosity data over the shear rate range 10 - 100,000 1/s (representative of the injection moulding process). Thanks to requirements feedback from a user in the foods industry, the software now has the facility to switch between "high" & "low" shear ranges (10 to 100,000 1/s and 0.1 to 1000 1/s). In addition the viscosity ("Y") axis now autoscales between 0.01 mPa.s to 1,000,000 Pa.s.
Download Here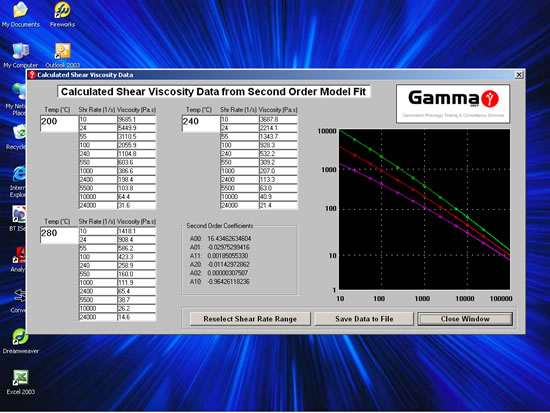 Recap of the headlines from Gammadot Rheology newsletters released this year:

New Capillary Rheometer... More

Gammadot Rheology to Exhibit @ PDM'08... More

New Reologica ViscoTech Rotational Rheometer... More

Moore 50 tonne electric moulding press purchased... More

Gammadot becomes UK support lab for Infra Scientific...More

Brookfield UL Adaptor Purchased... More
Back to Top
Gammadot Services Overview...

Our expertise is based primarily in the rheological characterisation of elastomers and thermoplastic melts, although we have experience with many other materials including: bitumens, industrial sealants, oils, greases, paints, solutions, hot melt adhesives and food additives to name but a few.

We also have many years experience in providing materials characterisation data support for proprietary flow simulation software packages such as Moldflow, Sigmasoft 3D and the now discontinued Fillcalc & C-Mold systems.

A brief summary of our key measurement services includes:
Capillary Rheometry

| | |
| --- | --- |
| | Shear viscosity as a function of shear rate |
| | Extensional viscosity as a function of extension rate |
| | Shear viscosity as a function of hydrostatic pressure |
| | Melt Density to ASTM 3835-96 |
| | No Flow Temperature |
Equipment used: Magna Projects ETA2100 Capillary Rheometer, Celsum Technologies ACR2100 Capillary Rheometer

Rotational Rheometry

| | |
| --- | --- |
| | Shear viscosity versus shear rate / Time / Temperature |
| | Oscillatory Rheometry as a function of Frequency / Time / Temperature |
| | Yield Stress Analysis (Inc. sub zero°C low temperature measurements) |
| | Cure Kinetics / Melt Stability / Thermal Degradation Studies |
| | |
Equipment used: Reologica StressTech HR & Reologica ViscoTech Controlled Stress / Rate Rotational Rheometers

Brookfield Viscometry

| | |
| --- | --- |
| | LV / RV / 5xHBT viscometer ranges available |
| | Full range of RV / LV spindles plus Small Sample Adaptor (SSA) |
| | Electrically heated thermosel coaxial cylinder system |
| | UL Adaptor for accurate low viscosity measurements |
| | |
Equipment used: Brookfield LVDV-I+, RVDV-I+ & 5xHBTDV-II Rotational Viscometers

High Pressure Dilatometry (PvT)

Specific Volume as a function of temperature & pressure
Density as a function of temperature & pressure
Bulk Modulus as a function of temperature & pressure
Note: Gammadot Rheology is one of only two independent commercial suppliers of PvT data in the UK.
Equipment used: Rapra PvT Apparatus

Materials Characterisation For Flow Simulation

| | |
| --- | --- |
| | Moldflow - Can provide viscometry, PvT & thermal data for MPI & MPA group tests - through filling & packing |
| | Sigmasoft 3D - Thermoplastic & Rubber viscosity, Cure Kinetics, PvT & thermal data + modelling |
| | C-Mold - As above |
| | Fillcalc V - As above |
Equipment used: Capillary Rheometer, PvT Apparatus, Pyris-1 Differential Scanning Calorimeter, Thermal Diffusivity Apparatus, RPA2000 Cure Rheometer
For further information about Gammadot's testing & consultancy services, or if you have a specific problem / testing requirement which you would like Gammadot to provide a solution to, please contact us using the details at the top of the page or via the enquiry form HERE.
If you DO NOT wish to receive any further quarterly emails from Gammadot, then please reply to this message with the word REMOVE in the subject bar.