| | |
| --- | --- |
| | What's in this issue... |
| | Gammadot becomes UK support lab for Infra Scientific... More |
| | Brookfield UL Adaptor Purchased... More |
| | Free Gammadot software to download... More |
| | Gammadot Services Overview... More |
A synergistic alliance has been forged between Gammadot Rheology and Infra Scientific Ltd, sole UK distributor of Reologica AB's quality rotational rheometer range. Under the agreement Gammadot becomes the new UK location for demonstration of Reologica rheometry equipment. Infra Scientific Ltd remains the primary supplier of new equipment, parts, calibration & servicing for the Reologica range of machines, with Gammadot providing additional support in the way of rheometer demonstration, contract testing and consultancy. Graham Thomas, MD of Infra Scientific said, "The recent supply of a versatile ViscoTech rotational rheometer to Gammadot, coupled with our companies' combined 25 years experience supplying / operating the StressTech HR model, (Reologica's high resolution research level rheometer), ensures new and existing Infra Scientific customers access to a skilled and professional demonstration / testing facility, centrally positioned within the UK." More Info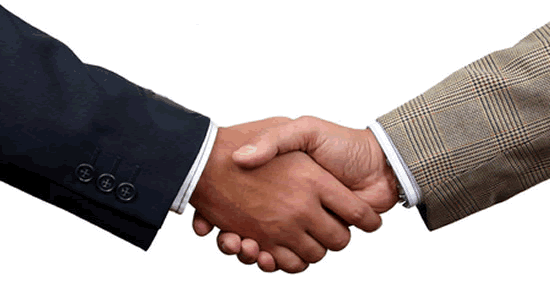 A Brookfield Ultra Low viscosity (UL) adaptor has been purchased in support of our viscometer test suite. The UL adaptor can be used with any of Gammadot's range of Brookfield viscometers, but will primarily be utilised in conjunction with the low viscosity (LVDV-1+) machine (pictured right). The UL adaptor consists of a precision cylindrical spindle rotating in an accurately machined tube. It's rheologically correct cylindrical geometry provides extremely accurate viscosity measurements and shear rate determinations on low viscosity materials.

The tube has a removable end cap enabling the open ended tube to be immersed in a beaker or tank or with the cap in place, precise temperature control can be maintained from 0°C to 100°C with the ULA-40Y water jacket (pictured). More Info
Have you ever received / searched the internet for a materials data sheet only to find the shear viscosity data consists of just 6 points over 3 temperatures? Now you can expand the supplied data using
FREE
software available from Gammadot Rheology.
For ~10 - 15 years materials viscosity data tended to be supplied in this format by polymer manufacturers, even when comprehensive measured viscosity data may have been available. It is a throwback to the early days of flow simulation software. The processing speed of PC's during the 1980's and early 1990's limited the amount of raw data that could be fitted directly in a timely manner by the leading packages of the time, Moldflow & Fillcalc. For this reason experimental data was mathematically fitted to either the first or second order viscosity model, and coefficients (or "node points"), derived from these fits. The second order viscosity model generated the six points still commonly seen on many material data sheets today. Unfortunately although the different packages used the same viscosity models, the second order model points were derived from different positions across the measured temperatures - which could lead to real headaches if for instance you were a Fillcalc user that was supplied with Moldflow node points!
For this reason Gammadot produced a simple conversion tool enabling the refitting of the node points to suite the simulation package in use. The programme is called
Nodecon
. The software also gives the facility to calculate 11 viscosity values across a shear rate range of 10 to 24,000 1/s for each temperature and save them to file. This data file can then be used for fitting modern day simulation models such as the Cross WLF and other derivatives used in current versions of Moldflow and Sigmasoft 3D.
Download Here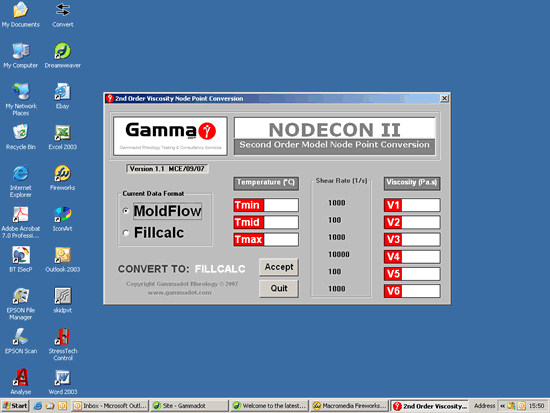 Back to Top
Gammadot Services Overview...

Our expertise is based primarily in the rheological characterisation of elastomers and thermoplastic melts, although we have experience with many other materials including: bitumens, industrial sealants, oils, greases, paints, solutions, hot melt adhesives and food additives to name but a few.

We also have many years experience in providing materials characterisation data support for proprietary flow simulation software packages such as Moldflow, Sigmasoft 3D and the now discontinued Fillcalc & C-Mold systems.

A brief summary of our key measurement services includes:
Capillary Rheometry

| | |
| --- | --- |
| | Shear viscosity as a function of shear rate |
| | Extensional viscosity as a function of extension rate |
| | Shear viscosity as a function of hydrostatic pressure |
| | Melt Density to ASTM 3835-96 |
| | No Flow Temperature |
Equipment used: Magna Projects ETA2100 Capillary Rheometer, Celsum Technologies ACR2100 Capillary Rheometer

Rotational Rheometry

| | |
| --- | --- |
| | Shear viscosity versus shear rate / Time / Temperature |
| | Oscillatory Rheometry as a function of Frequency / Time / Temperature |
| | Yield Stress Analysis (Inc. sub zero°C low temperature measurements) |
| | Cure Kinetics / Melt Stability / Thermal Degradation Studies |
| | |
Equipment used: Reologica StressTech HR & Reologica ViscoTech Controlled Stress / Rate Rotational Rheometers

Brookfield Viscometry

| | |
| --- | --- |
| | LV / RV / 5xHBT viscometer ranges available |
| | Full range of RV / LV spindles plus Small Sample Adaptor (SSA) |
| | Electrically heated thermosel coaxial cylinder system |
| | UL Adaptor for accurate low viscosity measurements |
| | |
Equipment used: Brookfield LVDV-I+, RVDV-I+ & 5xHBTDV-II Rotational Viscometers

High Pressure Dilatometry (PvT)

Specific Volume as a function of temperature & pressure
Density as a function of temperature & pressure
Bulk Modulus as a function of temperature & pressure
Note: Gammadot Rheology is one of only two independent commercial suppliers of PvT data in the UK.
Equipment used: Rapra PvT Apparatus

Materials Characterisation For Flow Simulation

| | |
| --- | --- |
| | Moldflow - Can provide viscometry, PvT & thermal data for MPI & MPA group tests - through filling & packing |
| | Sigmasoft 3D - Thermoplastic & Rubber viscosity, Cure Kinetics, PvT & thermal data + modelling |
| | C-Mold - As above |
| | Fillcalc V - As above |
Equipment used: Capillary Rheometer, PvT Apparatus, Pyris-1 Differential Scanning Calorimeter, Thermal Diffusivity Apparatus, RPA2000 Cure Rheometer
For further information about Gammadot's testing & consultancy services, or if you have a specific problem / testing requirement which you would like Gammadot to provide a solution to, please contact us using the details at the top of the page or via the enquiry form HERE.
If you DO NOT wish to receive any further quarterly emails from Gammadot, then please reply to this message with the word REMOVE in the subject bar.