| | |
| --- | --- |
| | What's in this issue... |
| | See You @ Interplas Next Week!.. More |
| | New Disposable Plate Measurement System For ViscoTech...More |
| | Centre For Cure at Gammadot Rheology... More |
| | Stay awake at the back please!... More |
| | Gammadot Services Overview... More |
See You @ Interplas Next Week!..

Encouraged by the interest in Gammadot's services at the Plastics Design & Moulding (PDM) exhibition in Telford earlier this year, we decided to exhibit at Interplas 2008 - the plastics industry's premier UK exhibition at the NEC, Birmingham, (Sept. 30th to Oct. 2nd).

Talking to visitors at PDM, it was surprising how few people utilised rheological data in understanding & optimising their production processes. Discussions covered a variety of issues, such as replacing the antiquated single point measurement of Melt Flow Rate (MFR), with a comprehensive rheological "fingerprint" - at a comparative cost to MFR testing. Another topic of interest was how rheometry can be an important part of a failure analysis, often giving first indications of failure cause - be it due to poor processing or service environment. Would you like to discuss how rheology can solve your problems? Mark Edwards and Dr. Bryan Willoughby will be happy to answer your questions on stand C17! More Info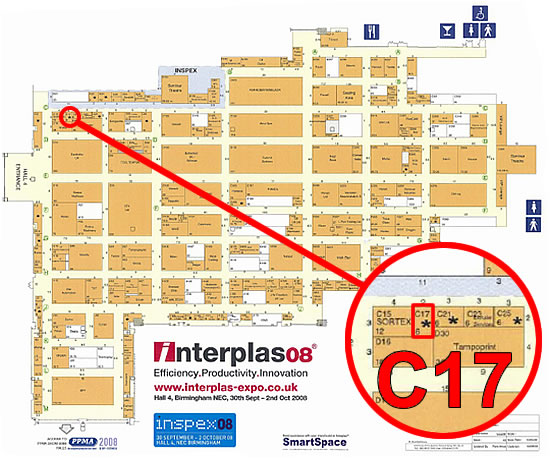 A bespoke disposable plate / plate measurement system has been recently manufactured to fit the Reologica ViscoTech rotational rheometer. The system is a simplified, cheaper to produce design compared to the existing original equipment, allowing cost savings to be passed onto the client. The new disposable geometries were recently used in a materials characterisation project involving the determination of reactive viscosity and cure kinetics, (isothermal & thermally ramped), of an International client's curing resin system. The low surface area of the 8mm upper plate gives the facility to apply high stresses to the sample, which is crucial in maintaining strain amplitude when measuring materials that produce very stiff, high modulus products. More Info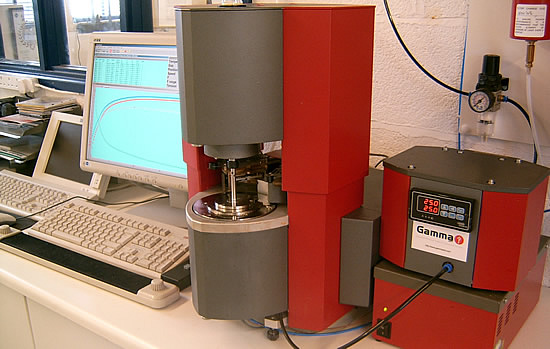 Gammadot is establishing a new Centre for Cure. This has at its core, existing instrumentation such as the refurbished Monsanto R100 Oscillating Disc Rheometer and the Reologica ViscoTech Controlled Stress Rheometer (with disposable sample plates), alongside the latest instrumentation from Polymatrix Ltd – the PM340 Series Phase Shift Curemeter. Gammadot was selected by Polymatrix to assist in the development of this instrument and has become the first test house to have a unit on site.
The R100 ODR is, of course, the workhorse of rubber cure monitoring, whilst the Gammadot-designed disposable plate / plate measurement system for the Viscotech rheometer brings research-grade instrumentation to cure-reaction studies. Together with the PM340 PSC, which is especially suited to curing liquids, these three instruments can provide cure monitoring for the full range of polymer types – whether rubber or plastic, liquid or solid, flexible, rigid or foamed.

The PM340 PSC breaks new ground in cure monitoring in that it can deliver state of cure in real time. There is no need to wait until the cure is over to establish progress at an intermediate stage. The approach also dispenses with the need to assume zero cure at the start. Putting numbers to the initial state of cure makes the determination of shelf life simple and routine. Indeed, simplicity is at the heart of this new technique which seeks to demystify cure assessment. We await your samples.
The control of cure embraces a number of challenges – not the least being processability in the early stages of cure. Problems may manifest themselves in a variety of ways, and the core instrumentation described is backed up by a host of other characterisation techniques. These include: capillary & rotational rheometry and Brookfield viscometry. The Centre for Cure at Gammadot provides a comprehensive testing facility – a true one-stop shop for problems of flow and cure.
Gammadot's principal, Mark Edwards, will be giving a talk entitled "
Rheology - A practical approach to quality control
" to the Telford Polymer Association on the evening of Tuesday 25th November. The talk will cover industrial applications of rheology highlighting practical aspects such as quality control programmes for the screening of incoming raw materials, optimising process control & problem solving / failure analysis.
The
Telford Polymer Association
is affiliated to the Institute of Materials, Minerals & Mining (IoM3) and host monthly informal evening lectures on polymer-orientated subjects at venues such as Smithers Rapra Technology, PTL Ltd & Transforming Telford.
Members, colleagues, friends, and other society members will be most welcome. For catering purposes, please register your interest by emailing
Matthew Cox
before 21st November.
Back to Top
Gammadot Services Overview...

Our expertise is based primarily in the rheological characterisation of elastomers and thermoplastic melts, although we have experience with many other materials including: bitumens, industrial sealants, oils, greases, paints, solutions, hot melt adhesives and food additives to name but a few.

We also have many years experience in providing materials characterisation data support for proprietary flow simulation software packages such as Moldflow, Sigmasoft 3D and the now discontinued Fillcalc & C-Mold systems.

A brief summary of our key measurement services includes:
Capillary Rheometry

| | |
| --- | --- |
| | Shear viscosity as a function of shear rate |
| | Extensional viscosity as a function of extension rate |
| | Shear viscosity as a function of hydrostatic pressure |
| | Melt Density to ASTM 3835-96 |
| | No Flow Temperature |
Equipment used: Magna Projects ETA2100 Capillary Rheometer, Celsum Technologies ACR2100 Capillary Rheometer

Rotational Rheometry

| | |
| --- | --- |
| | Shear viscosity versus shear rate / Time / Temperature |
| | Oscillatory Rheometry as a function of Frequency / Time / Temperature |
| | Yield Stress Analysis (Inc. sub zero°C low temperature measurements) |
| | Cure Kinetics / Melt Stability / Thermal Degradation Studies |
| | |
Equipment used: Reologica StressTech HR & Reologica ViscoTech Controlled Stress / Rate Rotational Rheometers

Brookfield Viscometry

| | |
| --- | --- |
| | LV / RV / 5xHBT viscometer ranges available |
| | Full range of RV / LV spindles plus Small Sample Adaptor (SSA) |
| | Electrically heated thermosel coaxial cylinder system |
| | UL Adaptor for accurate low viscosity measurements |
| | |
Equipment used: Brookfield LVDV-I+, RVDV-I+ & 5xHBTDV-II Rotational Viscometers

High Pressure Dilatometry (PvT)

Specific Volume as a function of temperature & pressure
Density as a function of temperature & pressure
Bulk Modulus as a function of temperature & pressure
Note: Gammadot Rheology is one of only two independent commercial suppliers of PvT data in the UK.
Equipment used: Rapra PvT Apparatus

Rubber Cure Rheometry

| | |
| --- | --- |
| | Cure Kinetics to ISO standard 3417:1991 Part A60 (Monsanto ODR) |
| | Frequency Sweep @ Constant Strain (Alpha Technologies RPA2000) |
| | Strain Sweep @ Constant Frequency (Alpha Technologies RPA2000) |
| | Variable Temperature Analysis (Alpha Technologies RPA2000) |
| | |
Equipment used: Modified Monsanto R100 Oscillating Die Rheometer, Alpha Technologies

Materials Characterisation For Flow Simulation

| | |
| --- | --- |
| | Moldflow - Can provide viscometry, PvT & thermal data for MPI & MPA group tests - through filling & packing |
| | Sigmasoft 3D - Thermoplastic & Rubber viscosity, Cure Kinetics, PvT & thermal data + modelling |
| | C-Mold - As above |
| | Fillcalc V - As above |
Equipment used: Capillary Rheometer, PvT Apparatus, Differential Scanning Calorimeter, Thermal Diffusivity Apparatus, RPA2000 Rubber Process Analyzer
For further information about Gammadot's testing & consultancy services, or if you have a specific problem / testing requirement which you would like Gammadot to provide a solution to, please contact us using the details at the top of the page or via the enquiry form HERE.
You have received this newsletter as you are either a past client, If you DO NOT wish to receive any further quarterly emails from Gammadot, then please reply to this message with the word REMOVE in the subject bar.