| | |
| --- | --- |
| | What's in this issue... |
| | Successful First Exhibition @ PDM'08... More |
| | Collaboration offers Greater Focus on Rubber Technology in 2008..More |
| | Visco Lite Micro Capillary Viscometer Ordered... More |
| | Gammadot Involved in the Development of New Curemeter... More |
| | Gammadot Services Overview... More |
Successful First Exhibition @ PDM'08...

This year's Plastics Design & Manufacturing exhibition (PDM'08) proved an excellent venue for Gammadot's first stand, with plenty of interest in the company and it's services. It was also a pleasure meeting new contacts and greeting past & present colleagues from all areas of the industry.

One subject that seemed to be a common concern when talking to visitors, was the limited choice of commercial suppliers of characterisation services within the UK, and the exorbitant prices charged by the established laboratories - therefore restricting the range of testing afforded to them.

Gammadot provides solutions based on two decades of experience and expertise, utilising equipment equal to and in some cases, exceeding laboratories offering equivalent services, at extremely competitive prices. More Info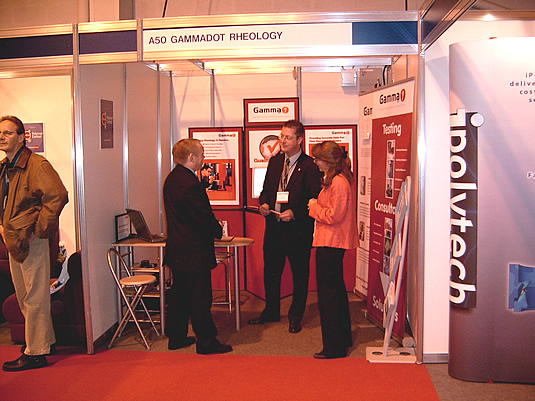 Gammadot Rheology is currently in discussions with ARTIS, (the recently commercialised research arm of Avon Rubber p.l.c), investigating potential projects & services the two companies can co-operatively offer to the polymer industry. Martyn Bennett, ARTIS' Chief Scientist, commented, "a partner with complimentary rheological skills in the thermoplastics sector will allow us to expand the services we can offer to our clients and we are looking forward to working with Gammadot".

ARTIS provides a wide spectrum of industrial support ranging from optimising customer compound formulations to providing problem solving services (root cause validation to solution implementation), to expert witness legal support & a selection of training courses covering rubber technology through to how to write a meaningful spec, approved by the IoM3 for professional development. A materials analysis service providing bench marking and reverse engineering together with both conventional & electron microscopy facilities enhances the specialist services offered.

The relationship will be mutually beneficial in that ARTIS can offer some unique rheological characterisation for rubber and TPE/TPV materials, whilst being able to offer Gammadot's expertise in the plastics sector to its customers. Mark Edwards, Gammadot's Principal said, "The staff at ARTIS have a wealth of experience supplying testing and solutions to problems in a production environment and Gammadot is excited about the potential of forming a synergistic working relationship with ARTIS ". More Info
Gammadot Rheology has ordered a Visco Lite micro capillary viscometer manufactured and supplied by Infra Scientific Ltd. The Visco Lite is aimed at ultra low viscosity measurement (such as ink jet printer inks, dilute polymer solutions, dilute aqueous solutions, organic solvents, hydrocarbons, biofluids, etc). Mark Edwards Gammadot's principal said, "This incredibly sensitive yet robust micro viscometer fulfils a niche in Gammadot's current suite of rheological characterisation equipment, further extending the range of materials we can accurately characterise for our clients". Infra Scientific claim the Visco Lite is the only viscometer capable of measuring from 0.1 mPas to 20 mPas with 0.02 mPas accuracy.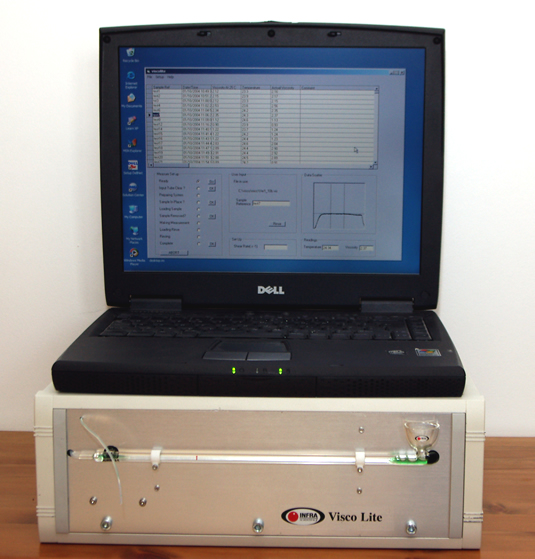 Gammadot is participating in a novel research initiative which is looking into the degree of cure in liquid resin systems. These present major challenges – not least to test equipment where there is a clear risk of effecting a permanent bond in the instrument sample cell. Disposable plates can be used, but this means that every system must be treated as a worst-case scenario. There are non-rheological approaches to cure monitoring, but it is always difficult to make direct correlations amongst the different methods.
The new research is revisiting concepts of degree of cure from both pure and applied perspectives. It contrasts what can be delivered against what is expected. Degree of cure in real time is one challenge to be addressed. Technologists do not want to wait until the cure is over to establish progress at an intermediate stage. Nor do they want to assume that the start is zero percent cure – all reactive systems have a shelf life. Key questions being asked include:

(i) was it zero cure at the start?
(ii) how far has the cure progressed now?
These are amongst the issues being investigated in this new research which will examine the way we use our existing instrumentation and consider what new options there are. Watch this space...
Back to Top
Gammadot Services Overview...

Our expertise is based primarily in the rheological characterisation of elastomers and thermoplastic melts, although we have experience with many other materials including: bitumens, industrial sealants, oils, greases, paints, solutions, hot melt adhesives and food additives to name but a few.

We also have many years experience in providing materials characterisation data support for proprietary flow simulation software packages such as Moldflow, Sigmasoft 3D and the now discontinued Fillcalc & C-Mold systems.

A brief summary of our key measurement services includes:
Capillary Rheometry

| | |
| --- | --- |
| | Shear viscosity as a function of shear rate |
| | Extensional viscosity as a function of extension rate |
| | Shear viscosity as a function of hydrostatic pressure |
| | Melt Density to ASTM 3835-96 |
| | No Flow Temperature |
Equipment used: Magna Projects ETA2100 Capillary Rheometer, Celsum Technologies ACR2100 Capillary Rheometer

Rotational Rheometry

| | |
| --- | --- |
| | Shear viscosity versus shear rate / Time / Temperature |
| | Oscillatory Rheometry as a function of Frequency / Time / Temperature |
| | Yield Stress Analysis (Inc. sub zero°C low temperature measurements) |
| | Cure Kinetics / Melt Stability / Thermal Degradation Studies |
| | |
Equipment used: Reologica StressTech HR & Reologica ViscoTech Controlled Stress / Rate Rotational Rheometers

Brookfield Viscometry

| | |
| --- | --- |
| | LV / RV / 5xHBT viscometer ranges available |
| | Full range of RV / LV spindles plus Small Sample Adaptor (SSA) |
| | Electrically heated thermosel coaxial cylinder system |
| | UL Adaptor for accurate low viscosity measurements |
| | |
Equipment used: Brookfield LVDV-I+, RVDV-I+ & 5xHBTDV-II Rotational Viscometers

High Pressure Dilatometry (PvT)

Specific Volume as a function of temperature & pressure
Density as a function of temperature & pressure
Bulk Modulus as a function of temperature & pressure
Note: Gammadot Rheology is one of only two independent commercial suppliers of PvT data in the UK.
Equipment used: Rapra PvT Apparatus

Rubber Cure Rheometry

| | |
| --- | --- |
| | Cure Kinetics to ISO standard 3417:1991 Part A60 (Monsanto ODR) |
| | Frequency Sweep @ Constant Strain (Alpha Technologies RPA2000) |
| | Strain Sweep @ Constant Frequency (Alpha Technologies RPA2000) |
| | Variable Temperature Analysis (Alpha Technologies RPA2000) |
| | |
Equipment used: Modified Monsanto R100 Oscillating Die Rheometer, Alpha Technologies

Materials Characterisation For Flow Simulation

| | |
| --- | --- |
| | Moldflow - Can provide viscometry, PvT & thermal data for MPI & MPA group tests - through filling & packing |
| | Sigmasoft 3D - Thermoplastic & Rubber viscosity, Cure Kinetics, PvT & thermal data + modelling |
| | C-Mold - As above |
| | Fillcalc V - As above |
Equipment used: Capillary Rheometer, PvT Apparatus, Differential Scanning Calorimeter, Thermal Diffusivity Apparatus, RPA2000 Rubber Process Analyzer
For further information about Gammadot's testing & consultancy services, or if you have a specific problem / testing requirement which you would like Gammadot to provide a solution to, please contact us using the details at the top of the page or via the enquiry form HERE.
If you DO NOT wish to receive any further quarterly emails from Gammadot, then please reply to this message with the word REMOVE in the subject bar.