| | |
| --- | --- |
| | What's in this issue... |
| | New Address, New Numbers, New Beginning... More |
| | Third Brookfield digital viscometer purchased... More |
| | Gammadot Services Overview... More |
| | About Gammadot... More |
Welcome to the very first newsletter from Gammadot Rheology Testing & Consultancy services! It's been an exciting couple of month's as we moved into new premises At Leaton on the scenic outskirts of Shrewsbury, Shropshire. The 1100 Sq ft unit is perfectly sized to accommodate the increased testing capacity / expansion envisaged over the next five years, (more acquisition news will be reported in the next newsletter). The new address and contact details are as follows: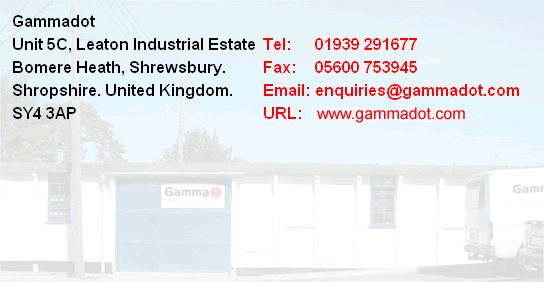 A Brookfield LVDV-I+ digital viscometer has been purchased to complete our suite of Brookfield digital machines. The LVDV-I+ is designed for measurements on low viscosity fluids and in conjunction with our existing RVDV-I+ (medium viscosity) & 5xHBTDV-II (ultra high viscosity) gives us the facility to characterise materials with viscosities ranging from 15 mPa.s to a massive 320,000,000 mPa.s (0.015 Pa.s to 320,000 Pa.s)†. A Brookfield coaxial cylinder measurement system (small sample adaptor) is also available for use with all of the instruments enabling real shear viscosity versus shear rate data to be produced. The sample chamber fits into a water jacket which provides precise temperature control to +/-0.1°C accuracy when used in conjunction with our Radnoti heater / circulator bath, (temperature range 0°C to 150°C).
†Note: Brookfield measurement range only - We can characterise a wider viscosity range utilising the controlled stress & capillary rheometers
Our expertise is based primarily in the rheological characterisation of elastomers and thermoplastic melts, although we have experience with many other materials covering: bitumens, industrial sealants, oils, greases, paints, PVA & hot melt adhesives and food additives to name but a few!

We also have many years experience in providing materials characterisation data support for proprietary flow simulation software packages such as Moldflow, Sigmasoft 3D and the now discontinued Fillcalc & C-Mold systems.

A brief summary of our key measurement services includes:


Rheology - Capillary / Rotational Rheometers / Brookfield Viscometers

Shear viscosity versus shear rate / stress / temperature / time

Oscillatory (Dynamic) viscometry - n*, G', G", Phase Angle, etc

Extensional (elongational) viscosity versus extension rate

Shear Viscosity as a function of hydrostatic pressure (pressure dependence)

Full range of Brookfield equipment for "infinite sea" comparative viscometry

Yield Stress Analysis (Experienced in sub-zero measurements to -60°C)

Thermal stability / degradation / cure studies
Flow Simulation Software Support
Moldflow (MPI, MPA & CMK2 Group Tests - Through Filling & Packing)
Sigmasoft 3D
The supplied combination of the following parameters is dependent on which package is required and material type.
.
Bagley end corrected Shear Viscosity Vs Shear Rate @ 3 temperatures
Specific Heat Capacity
Thermal Diffusivity (To calculate Thermal Conductivity)
Room Temperature & Melt Density
Ejection & Transition Temperatures via DSC cooling trace
PvT - Specific Volume as a function of Pressure & Temperature
Cure Kinetics @ 4 temperatures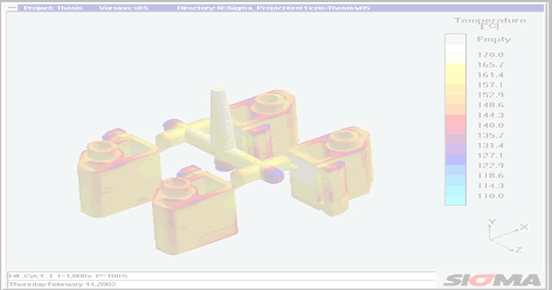 Gammadot was formed by Mark Edwards who, prior to March 2006, spent 18 years in a variety of roles at

Rapra Technology

, Europe's leading test house / consultancy to the plastics and rubber industry. For the majority of his service Mark was primarily responsible for all rheology testing & consultancy, and the provision of materials characterisation data for proprietary Flow simulation software such as Moldflow and Sigmasoft 3D, although he also has experience in rubber technology, plastics processing, failure analysis and plastics technology. A member of the British Society of Rheology for over 10 years, he is also the membership secretary and webmaster of the

Telford Polymer Association

.
For further information about Gammadot testing & consultancy services, or if you have a specific problem / testing requirement which you would like Gammadot to provide a solution to, please contact us using the new details at the top of the page or via the enquiry form HERE.
This is a one off introductory email to provide awareness of Gammadot services and how we can potentially be of help to you. You will not receive any further correspondence from Gammadot unless you request to be added to our confidential address list by simply replying with a blank email or generating an automatic response email by clicking HERE